eToro is an online social broker which offers investment opportunities through it's platform.
You can trade everything from stocks and foreign currencies (ForEx), to ETFs & cryptocurrencies, even commodities (such as oil, gold, silver etc).
It's currently one of the most popular online brokers, mostly due to a very innovative feature it offers: the Social Copy Trading.
Social Trading is a tool that allows you to see the portfolios of other users and "copy" their investing strategies.
Are you a complete "noob" in stocks and investments?
Then just copy the pros who know their stuff and earn the same results!
Too good to be true you say?
Like with almost everything in life, the truth lies somewhere in-between.
*67% of CFDs investors lose money. Make sure you understand the risks investing carries and the potential for monetary loss.
If all this sounds interesting and you want to learn more about the platform, then keep reading! Here's a Complete Guide to the eToro platform.
Happy reading!
Bank Transfer, Paypal, Credit & Debit Card
---
eToro Guide Index:
*This guide is not addressed to users from the USA
---
What is eToro?
eToro was founded in 2007 in Tel Aviv in Israel and is an online social trading platform.
It's exclusively available online and can be accessed through both mobile and PC.
On it you can Trade stocks, cryptos, ForEx, ETFs etc.
eToro also has a Social aspect, since users can create their own social profile that publicly features their investments, which in turn, can be copied by other investors through the Copy Trading Feature.
In order to keep this going, eToro rewards popular investors with money through the Popular Investors feature. We'll talk more about this later in the guide.
eToro begun as a platform where you could buy foreign currency (2007) and as years went by, added more and more investment options such as stocks (2013) and cryptocurrencies (2018).
Right now, eToro has more than 13 million users and a strong presence in more than 140 countries.
The company's headquarters where R&D takes place are still based in Tel Aviv, however legal entities exist in Cyprus, the UK, U.S.A. China and Australia.
As far as introductions go, I couldn't resist an honorable mention to the company's Marketing Department:
As a Digital Marketing professional, I have to say that their ads are f*cking AWESOME! (to say it politely)
If you have ever been involved even a little with investments, money management and online marketing, then most definitely you have been targeted by their ads on Social Media & YouTube.
Amazing scripts, perfect timing, solid partnerships.
*However, they could dial the frequency down a bit, cause they're ALL I see!
Here's some examples so you can see what I'm talking about:
HODL your Bitcoins with Hodor
They partnered with Kristian Nairn (Hodor from Game of Thrones) and came up with the following concept: HODL your Bitcoins!
Don't let commissions bite on your Portfolio
Social experiment kind of ad on how annoying commissions can be…
Too Busy to Trade? Just Copy!
*Message to the management*
GIVE THEM A RAISE!
---
❤️ Sharing is Caring
Share this article with someone who wants to learn more about eToro. You'll be doing both them and me a favor!
---
Investment Opportunities on eToro
Here's what you can buy and sell on eToro:
Stocks
Cryptocurrencies
Foreign Currencies
ETFs
Indexes
Commodities
You have access to both real assets and CFDs.
Any orders you make without leverage (x1 order) and has to do with stocks, ETFs and cryptocurrencies, then you're dealing with real Assets.
On the other hand, all other orders, meaning buying stocks, ETFs, cryptos WITH leverage, as well as commodities, indexes and ForEx, regard CFDs.
---
What are CFDs?
"Contract for difference (CFD) is a contract between two parties, typically described as "buyer" and "seller", stipulating that the buyer will pay to the seller the difference between the current value of an asset and its value at contract time (if the difference is negative, then the seller pays instead to the buyer)." – Wikipedia
Basically when you order a CFD, you don't buy the actual asset, but a contract denoting the value of the asset at the given time. They come with leverage, and can offer bigger earnings with bigger risks.
📚 Homework:
Read more on what CFDs are and how they work here.
*Disclaimer:
CFDs are complex investment options that come with great risks and can result to quick capital loss cause of the leverage.
67% of investors lose money by trading CFDs on eToro. Please make sure you know what you're doing when dealing with CFDs and also make sure you can handle the potential loss of capital.
---
Buying Stocks
eToro offers you access to 17 of the biggest stock markets in the planet and to more than 2.039 different stocks:
| | | | |
| --- | --- | --- | --- |
| Hong Kong | NYSE | New York Tech | Euronext Lisbon |
| Euronext Brussels | Amsterdam | Paris | London |
| Helsinki | Stockholm | Madrid | Frankfurt |
| Copenhagen | Oslo | Zurich | Milan |
| Saudi Arabia | | | |
Every large multinational company you might be looking for is here.
There are, however, some markets missing. For example the Athens Stock Market in Greece (where this article is written from), is not available.
If you buy any stocks without leverage (x1) then the real asset of the stock is purchased to your name, whereas when you buy it with leverage, then you buy the CFD of the stock.
📚 Relevant Reading: In my Complete Guide to Stock Buying on MoneyMinority, I walk you through the process of trading stocks on eToro, step by step.
Or, just watch the company's instructional video here:
---
*67% of CFDs investors lose money.
Again, make sure you are aware and can accept the risks when dealing with CFDs.
---
Buying Cryptocurrencies
On eToro, you can buy and sell the following 16 cryptocurrencies:
| | | | |
| --- | --- | --- | --- |
| Bitcoin | Ethereum | Bitcoin Cash | Ripple |
| Dash | Litecoin | Ethereum Classic | Cardano |
| IOTA | Stellar | EOS | NEO |
*Orders on Cryptocurrencies without leverage regard real Assets, otherwise, they regard CFDs.
Keep in mind that you can't transfer cryptos to or from eToro.
*Cryptocurrencies are extremely volatile and unregulated investments. There is currently no regulatory legislature from the EU. Your capital is always on risk.
---
Buying ETFs
eToro gives you access to 252 different ETFs, a popular option among Passive Long Term Investors, such as:
*Orders on ETFs without leverage regard real Assets, otherwise, they regard CFDs.
📚 Homework: Read more on What they are, How they work & How you can invest on them, in my Absolute Guide to ETFs.
---
Buying Foreign Currencies (ForEx)
eToro allows access to 49 different currency pairs such as EUR/USD, GBP/USD, EUR/JPY, etc.
*Orders on Currency Pairs regard CFDs.
---
Buying Indexes
eToro offers access to 13 different indexes.
Such indexes are for example:
Dow Jones Industrial Average (DJ30) It's one of the oldest market indexes in the world which follows the progress of the 30 biggest listed companies in the USA.
S&P 500 (SPX) One of the most representative index of the USA stock market outcome, since it tracks the progress of 500 listed companies.
Financial Times Stock Exchange 100 Index (FTSE100) An index that tracks the outcomes of 100 companies with the biggest market capitalization in London.
*Orders on Indexes regard CFDs.
---
Buying Commodities
On eToro you can trade CFDs of 13 different commodities:
| | | | |
| --- | --- | --- | --- |
| Oil | Gold | Silver | Copper |
| Natural Gas | Platinum | Palladium | Sugar |
| Cotton | Cocoa | Grain | Alluminum |
| Nickel | | | |
*Orders on commodities regard CFDs.
---
Social Copy Trading: Copy the Strategies of others
As I've mentioned in the beginning of the guide, one of the main reasons eToro got to where it did, especially in times where online trading & investing platforms were very on the rise, was the Social Copy Trading Feature.
---
What is Social Copy Trading?
It's a feature that allows you to "copy" the investing portfolio of other investors and just use their methods and strategies as if they were your own.
Basically you allocate a portion (or even all) of your capital that "copies" the actions of your preferred investor.
---
How do you choose the appropriate Investor to copy?
With a lot of research of course!
Under every investors profile, you'll find all the information you need (if not, then move on!) in order to do enough research and finally choose the one that suits you best.
You can find their performance, their portfolio and also a feed where they could post any news, announcements or even statistics.
---
Does Copy Trading cost anything?
The platform doesn't charge any fees for using the Copy Trading feature.
However…it might still cost you a lot. Even everything! At least it won't be fees…!
Borderline spam: Investing=risk! Past results DO NOT guarantee for future ones.
As far as fees go though, you'll be charged any trading fees that the traders you're copying get charged themselves. They will however scale accordingly, depending on the amount of capital you choose to invest.
---
What to look after when choosing which trader to copy:
First thing to remember, is that performance statistics won't guarantee the same future outcome (common sense am I right). A trader's high performance in the past, doesn't necessarily mean same results in the future.
Don't get overexcited by very high positive performance ratios from users in shorts amounts of time. Keep doing your research and check their performance overtime, in longer periods of time. It's ok if they're not always perfect.
Also check how active they are in their feed. Do they post often? Are they open about their strategies? Do they offer frequent updates with results and statistics? Remember you're one way or another "entrusting" some stranger with your money; you're entitled to know what he does with them.
Some things you should be looking for are:
How long have they been active in the platform? I'd personally steer clear of new traders who haven't been around for long and don't have a decent record about their transactions
What levels of risk are they willing to take? It isn't necessarily bad to copy traders who take some risks in their investments…as long as you're aware of them and cognizant of your decision. Higher risk=More profit (…or damage).
How Active are they? It's always nice to find someone passionate about their work. Check if they post often or have open discussions about their strategies.
How many followers do they have? This isn't Instagram, here followers could mean something! More followers means more people trust the trader – usually a good sign.
How diverse is their Portfolio? Generally, in trading, a more diverse portfolio usually means lower risk.
Set Stop Loss for your Copy Portfolio Very important thing to take note. Setting a Stop/Loss command for your copy portfolio means that your capital will be somewhat protected when unexpected losses occur.
---
How do I copy investments?
Under the main Menu, choose "Copy People" and you'll be redirected to all the popular investors.
After doing your research, choose the one you're going to copy, set the amount of capital you're willing to invest and hit "Copy".
(it's 2021, there's videos for everything:)
Research away!
*67% of CFDs investors lose money.
Make sure you understand the risks investing carries and the potential for monetary loss.
---
Tell me if I'm reading your mind correctly:
"Why would they share all their earning methods with me for free? Since when did people become so benevolent?"
Did I get it right? Solid question I'd say! Let's check why.
Social Investors who share their investments to be copied on eToro, take part in the Popular Investor Program. Can you guess what the reward for sharing their portfolios is? It's the same reason you're on the platform as well! But of course…Money!
Specifically, Popular Investors are rewarded with 2% of the total amount of investments that's "under their supervision".
As you can tell for yourself, that's a pretty strong motive to keep their performance high. The better they are, the more the followers they get, which means more profits.
It's a win-win for everybody!
So, if you read all my guides, you could be one of the next popular investors! Remember to mention me in your Financial Times interview!
---
CopyPortfolios:
Invest in Thematic Portfolios
If copying Popular Traders is not your thing, eToro gives you the opportunity to copy the investments of Thematic Portfolios.
These Market Portfolios are generated by eToro itself and follow certain thematics.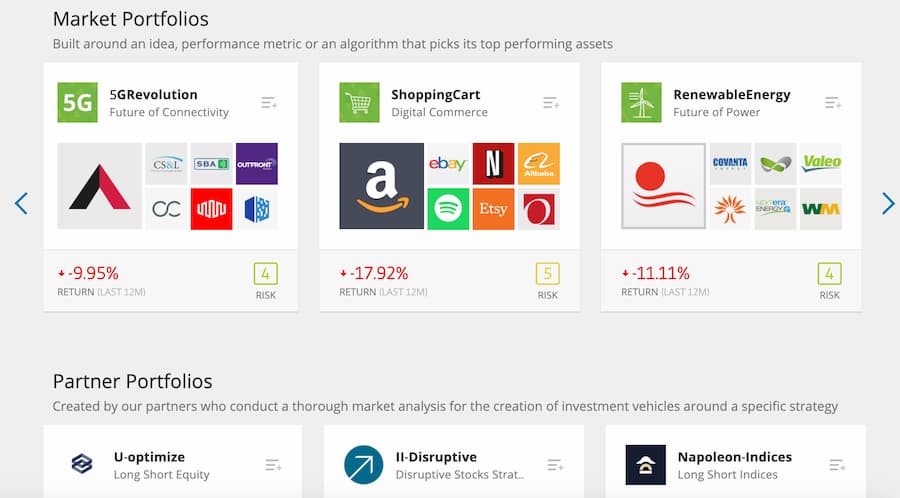 Are you a believer of 5G technology and expect it to be groundbreaking? You can follow the 5G Revolution Portfolio which includes stocks of companies who develop or expect to profit from this new technology.
Is e-commerce more your style? The ShoppingCart Portfolio might be more suitable.
Or maybe you want to buy shares in companies with the biggest and most stable dividends. Copying the DividendGrowth Portfolio is the way to go.
Some more Thematic Portfolios to copy:
Renewable Energy Sources
Travel
Tech
Cyber Security
*67% of CFDs investors lose money.
Make sure you understand the risks investing carries and the potential for monetary loss.
---
Fees in eToro
The holy grail of motives: profit!
Like any self-respecting company, eToro's goal is also profit. Profit in the form of fees that it charges users for its services.
Let's take a deeper look into them:
For starters, we're gonna divide fees into two categories: Trading and non-trading fees.
Trading Fees are what's withheld from your transactions. They depend on the type of product you buy (if it's CFD or not) and usually regard spreads.
ΜΕΤΑΦΡΑΣΕ ΕΔΩ
Non-Trading fees are (surprise surprise) what you're charged for any transactions other than trading (such as inactivity fees, withdrawal fees etc).
---
1. Trading Fees
To make things easier, we're going to split trading fees into more subcategories, depending on what you are trading on eToro:
---
Stocks & ETFs without Leverage
Good news (probably).
If you're a resident of Europe (UK included) and decide to buy stocks or ETFs without leverage (1:1) then there are no extra fees.
This makes eToro an excellent choice if you're looking to invest in stocks or ETFs and buying the underlying assets to your name.
---
Cryptocurrencies with no Leverage
Same way as before, if you buy crypto on eToro without leverage (1:1) then you're buying real crypto to your name.
Your fee will be the spread between the purchase and sell values and will depend on which crypto you're buying.
Some indicative crypto spreads:
Trading Fees example for Bitcoin
---
CFDs
On the other hand, for everything else on eToro, such as Commodities, Indexes, ForEx or when you buy stocks, ETFs & Cryptos with leverage, then you're trading CFDs and not real assets.
On this case, eToro fees have to do with Spreads & Overnight Fees.
Spreads
Differ depending on what you're trading and are measured in either PIPs or percentages.
What is PIP?
PIP stands for Percentage in Point and is the smallest possible measurement in the value of an asset. For example increase of one PIP on the EUR/USD pair means the price increases from 1,1189 to 1,1190.
Overnight Fees
Overnight fees are small daily fees on your open positions on CFDs (NOT real assets), and amount to the "interest" eToro earns on your transactions to cover the leverage costs.
I'll put a link here for you if you wanna take a deeper and more detailed look on Spreads & Overnight Fees for each CFD.
---
Example on what would Trading Fees look like when buying CFD Apple stock.
Things can get rather complicated when dealing with CFD trading fees, I know. Let's try and clear things up with an example of a CFD stock with leverage:
Suppose you want to open a position, valued at 1.000$ with leverage x2 on CFDs of Apple stock which right now costs 250$ with a typical spread of 0.18%. Given current leverage (x2), amount of capital ($1.000) and the value of the CFD, your position will include 8 shares* and will be valued at 2.000$. *(1.000*2) / 250 = 8
If you close on the same day, you won't pay overnight fees and will be charged the spread which will be 3.6$.
If you close on the next day, you'll be charged with 0.46$ in overnight fees and the spread which will again cost 3.6$.
In the following chart you'll see how they're calculated:
Thus, as it's become obvious to you I hope, apart from the high risk involved (and high loss/profit potential), CFD trading also comes with a lot of maintenance costs. So for inexperienced traders, I'd recommend non-leveraged products to begin with.
---
Social Copy Trading
What about fees when copy trading other investors?
Guess what, you're copying those as well!
Since you're actually buying the same products as the trader you're copying, you're also getting charged with the same fees (which scale of course according to your invested capital).
---
How can I reduce my Fees?
Is it even possible to accomplish that?
Well, if you manage to become a Popular Investor yourself and accumulate enough followers who copy your investments, you can indeed reduce (or get rid of completely) eToro's trading fees.
---
2. non-Trading Fees
On eToro there are 3 basic non-trading fees:
Withdrawal Fee
The bread and butter of eToro non-trading fees – $5 withdrawal fee. Each time you withdraw money from your account (min. $50) eToro charges you $5.
Inactivity Fee
Moving on to fee #2: inactivity fee of $10 / month for inactive accounts. An account is flagged as inactive if not logged in for over 12 months. So just log in once per year and you'll be ok.
After not logging in for more than 12 months, then eToro starts to charge $10 per month from that point onwards.
Currency Conversion Fee
Finally, the last fee to consider, is the currency exchange fee on eToro. Given that the base currency of the platform is only USD, if you you deposit money in EUR then they will automatically get exchanged into USD. For the exchange however, there is a small fee.
The amount of fee is calculated in PIPs. Specifically:
Exchange fee EUR/USD for Deposits/Withdrawals through Bank Transfer: 50 PIPs.
Exchange Fee EUR to USD for Deposits (Card & eWallets): 150 PIPs.
Exchange Fee USD to EUR for Withdrawals (Card & eWallets): 50 PIPs.
To clarify: if you deposit say 10.000€ through wire transfer, with exchange rates EUR/USD being 1.1189, you get 11.189$. Subtract the 50 PIPs fee, equals 11.139$ available in your account.
*Tip: You can circumvent this fee by depositing or withdrawing directly to USD through any digital bank or PayPal.
Besides the abovementioned 3 fees, there are no other non-trading fees like for example when depositing money.
---
*67% of CFDs investors lose money.
Make sure you understand the risks investing carries and the potential for monetary loss.
---
Is eToro Safe?
With a track record of 13 years (founded in 2007), it has experienced some turbulence in its time (in 2008 to be precise).
It's currently being regulated by 4 different organizations in 4 different countries.
From the Cyprus Securities and Exchange Commission (CySEC) for European customers, with license number 109/10
By the Financial Conduct Authority (FCA) for the UK, license number 583263
By the Australian Securities and Investment Commission (ASIC) for Australia, license number 491139
And for USA, by FinCEN.
All this regulation is set to watch over eToro's actions and guarantee for it being "clean".
Basically they guarantee that eToro is not a scam and no-one will cash out with all the invested capital and drink cocktails on a yacht in the shores of Panama.
---
For us in the European Union, there are 2 Investor Insurance Programs in place:
Regulatory Protection for Clients up to 20.000€
An insurance scheme set in place by the European Union that cover the clients' funds up to 20.000€.
For EU clients regulation is assigned to CySEC.
Private Insurance for up to 1.000.000€
This covers events of insolvency and a shortfall of client funds for up to 1.000.000€.
Provided by Lloyd's bank, London UK.
When do Insurance Schemes Activate?
These schemes activate only if eToro goes bankrupt and can no longer meet the demands of its clientele or turns out to be fraud.
Which means loss of capital due to failed investments are not covered.
These schemes don't have an expiration date and regard all applicable tradings on eToro except cryptocurrencies.
---
Finally, apart from all necessary regulation and Investor Protection Schemes:
Client funds are kept safe in Tier 1 banks
Active Negative Balance Protection
All personal information is guarded under SSL encryption
There's a 24 hour customer support service available on all trading days
All of eToro's actions are frequently covered by reliable and mainstream worldwide media such as CNBC, TechCrunch and the Telegraph
---
Is eToro a Scam after all?
From time to time, I come across some negative comments on the Internet about eToro being a scam and people should be wary of this "elaborate plot" set up by the company to scam users.
However, the truth is, this isn't possible. Under all the regulations of organizations such as FCA, CySEC and ASIC? No way… eToro is legit.
Still not convinced? Check for yourself what eToro has to say about the matter.
---
How Do I Create an Account on eToro?
So, you decided to try eToro for yourself huh?
Wonderful!
You'll need to create an account in order to start investing with eToro.
Keep reading, I've created a step by step guide to *guide* you through the proccess!
How long does my subscription last?
*Tip: Keep the guide open on a separate tab so you can refer to it whenever you need to.
---
Step 1: Sign up
With this link you can get started with creating your account.
*67% of CFDs investors lose money. Make sure you understand the risks investing carries and the potential for monetary loss.
Choose your username, add your email, your phone number and set a password for your account.
There's also the option to sign up with a Google or Facebook account – makes it faster and simpler. *I know I clicked that
After clicking "Create Account", you'll receive a Confirmation email
Go to your inbox, find the confirmation email you received and click on the link attached.
You'll be automatically redirected to the eToro main page.
Not done quite yet.
Click "Complete Profile" from the menu on the left.
In order to gain full access to the services of eToro, you'll first need to Complete your Profile and then complete your first deposit.
---
Step 2: Complete your eToro Profile
Click Continue in order to Complete your Profile with these next steps:
Fill in your personal information as they appear on your ID or Passport.
Fill in your address information.
*Remember to tick the box that says you're not born/live in the USA.
Then you'll be asked to state your experience with investing.
*If you say you have no prior experience with leverage vehicles (CFDs, Futures, Options) then eToro will automatically restrict them due to increased risk.
In the same way, fill in your experience with trading.
*Again, if you state you don't have any past experience with trading, then eToro will restrict some trading vehicles in order to protect you from potential risks.
Next up is a mini test to check your experience level.
DON'T COPY WHAT I WROTE, IT'S NOT NECESSARILY CORRECT!
*eToro is just looking to test your knowledge on trading.
Choose the investment vehicles you wanna deal with on eToro.
As we saw before, these options include:
Stocks
Cryptocurrencies
Foreign Currency
Commodities
Indexes
Time to tell eToro what type of investor you are and what your investing timeline usually is.
Is your strategy buying and selling assets multiple times within a day profiting from the ___ (Day Trading)?
Are you maybe in for the long run? Are you looking to buy assets you're not willing to liquify soon but keep for a long time and profit from them overtime? (Long Term Investing)
Or are you somewhere in between?
What's the reason you want to invest?
Are you looking for short term profits? Or are you aiming for that dream house after you retire?
Afterwards, you'll be asked about the levels of risk you're willing to take depending on the amount of capital you choose to invest.
Fill out your occupation as well as your sources of income.
Oof…
eToro asks more question than my mom…
The truth is that all these questions don't really limit what you can do with your account since most of them are for statistical reasons.
However it's a good "test" to take. It's like a short recap game to remind yourself what type of investor you are and why you're here in the first place.
Anyway, back to account creation.
At this point, you have two options:
Complete your first deposit and begin investing
Verify your account in order to earn the following benefits
Since we're already here, we might as well verify our account and be done with it before moving on to investing.
No point skipping if we have to turn back here later anyway.
Yet again, you don't have to complete your profile 100% in order to start investing.
If you wish to complete your profile, choose "Complete Verification". If you wish to get right into action, choose "Continue To Deposit", and skip further down the guide.
---
Step 3: Account Verification
What you'll need:
Legal ID or Passport (passport recommended)
Legal proof of residency (Bank Statement, Utility bill etc)
VAT number (no document required)
For starters, you'll need to verify your phone number.
Fairly simple: fill in your phone number, you'll receive an SMS with a verification code, use it to verify your number and you're done.
Next up, you'll need to verify your ID.
You can do that by uploading a photo from your phone of your ID (both sides) or your passport.
*Tip:
If you have a passport, use it as it typically is faster to verify. That's what I did.
Next, you need to verify your residency.
Again upload a photo from a bank statement, utility bill, something that has your address and name on it.
*Tip
I uploaded a statement from the N26 digital bank (whose client I am) that is also in English and has all the necessary information.
And finally, you'll need to fill in your VAT number.
After you've filled everything out, it typically takes a couple of business days (max 3) to complete the verification.
If any problems arise, they'll contact you through email.
Now all that's left to do, is deposit some money in your account.
*Tip
As eToro states itself, if you deposit money immediately it will speed up the verification process. For obvious reasons: you deposit money they want you as a client! 🙂
---
Depositing Money in eToro
There are 6 ways to deposit money into your eToro account:
Credit/Debit Card
PayPal
Bank Transfer
Skrill
Neteller
UnionPay
*The first deposit must be by one of the first 3 methods – afterwards you "unlock" the other methods too.
One of the few setbacks here, is that eToro has only one base currency: US Dollar.
Which means that even though nothing's stopping you from depositing money in Euro, eToro will convert them to Dollar but will charge a fee for the conversion. More on the currency conversion fee here ▶
In the following chart you can see what counts as a minimum deposit, commissions as well as the amount of time it takes for your money to appear in your account, depending on the method of deposit you choose.
| | | | |
| --- | --- | --- | --- |
| Method | Min. Deposit | Fee | Time to Appear |
| Credit/Debit: | $50 | $0 | Immediately |
| PayPal: | $50 | $0 | Immediately |
| Bank Transfer: | $500 (€465) | $0 | 4-7 business days |
Regardless the method, make sure the account you send money from is under your name.
*Personal Experience: I made my first deposit through PayPal, since I had some USD laying around. It was a fairly easy and fast procedure and my money appeared on my eToro account immediately.
---
Withdrawals on eToro
Not hard to withdraw money from eToro, however there's a catch: It's not free!
For any withdraws there's a fixed $5 fee.
The method of withdrawal is usually the same as the method of deposit. Meaning if you deposit through bank transfer, money will be withdrawn into the same bank account etc.
As far the time it takes for your money to appear in your wallet is concerned, as we can see in eToro's Help Center, all transactions require 1 business day to process and an additional 3-8 business days depending on the method used.
Finally, in order to withdraw money all you need to do is click "Withdraw Funds" from the main menu on the left.
*Currency Conversion Fees for Withdrawals
Remember that if you withdraw funds in Euro, then eToro will first convert them into Euro from Dollars (the base currency) and will withhold a fee for the conversion. More on Currency Conversion Fees here.
---
Buying Stocks on eToro
Now that your account is ready and you've finally deposited your first funds, it's time to move on to some investments
In the following example we'll take a look on how we can do this by buying Facebook stocks with a supposed capital of $200.
Notice:
This doesn't mean you also have to support the beloved lizardman (eg Zuckerberg). This is merely an example to see how you can buy investment vehicles that eToro offers (Stocks, ETFs, Crypto etc). The following example is not meant to be an urge to investing neither investment advice.
| | |
| --- | --- |
| 💰 Investment Capital: | $200 |
| 🏷️ Stock: | Facebook Inc (FB) |
---
Step 1: Find the Stock
eToro hosts a very friendly environment where you can search for stocks, ETFs, Crypto etc in two ways:
Either through the Search Bar at the top of the screen, where you type the Asset you're looking for:
Or by clicking the Trade Markets option from the menu on the left and looking through the available options:
After you find the stock you were looking for, click on it to view it's advanced tab. There you can find more information on the stock (stats, charts, turnover etc) and also Trade it.
In order to buy the Facebook stock (i.e. open a long position on the stock), you'll have to click on the "Trade" button underneath.
Step 2: Buying the Stock
Right after you click on "Trade", the following tab opens:
Next we'll take a look at what all these terms mean:
Set Rate:
The price you're willing to buy the stock for
If you choose to buy the stock "At Market" then you're buying the stock at the current market price. Specifically, the current price of the stock on the market is $267.40.
If on the other hand, you wish to buy the stock at a specific price, then you have to click "Rate" and set the price you're willing to pay for it. When the stock reaches the set price (if it ever does), eToro will automatically buy the stock for you at your desired value.
For our example, because I want to get hold of the stock right away, I'll buy it at Market Rate.
Amount/Units:
This has to do with the amount of stocks you want to buy.
When you choose Amount, you set the amount of capital you're willing to invest.
When choosing Units, you set the amount of stocks (how many units) you're willing to buy.
For your example and because I only have $200 to invest, I'll choose Amount and set it to $200. This means that at current value, I'm buying 0.75 of a Facebook stock. eToro supports Fractional Shares.
Leverage:
The amount of Leverage you want for your trade:
Since I'm looking to buy the actual asset, I won't be needing any leverage, so I'll leave the rate at x1.
Leverage is a feature orientated towards experienced Short-Term Traders since it multiplies the value (hence the risk) of the Trade. This means that profits can be multiplied, but also losses. Leverage is only available for CFDs and not real assets. Furthermore, leveraged trades include Fees.
Stop Loss/Take Profit:
These are orders you can make, where you program the platform to automatically close your position when the criteria you've set are met. The Stop Loss feature helps you moderate losses, whereas the Take Profit feature helps guarantee profits.
---
Everything set up?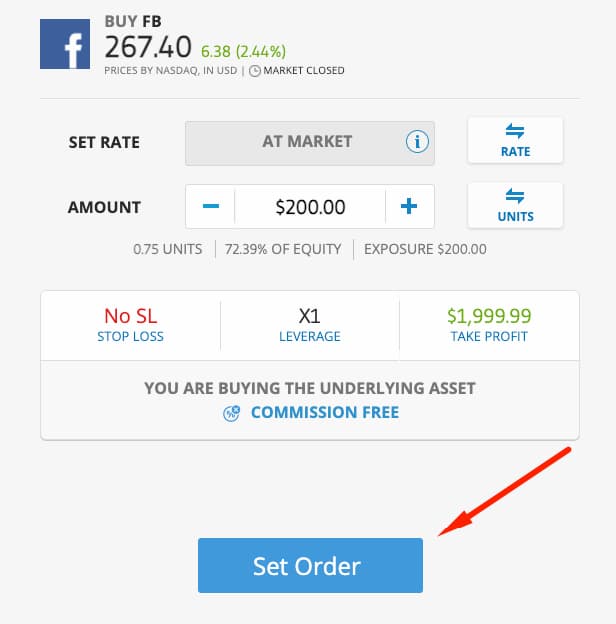 When you're ready, you can order a Long Position opening (i.e. buy the stock) for 0.75 Facebook Stocks, at the price of $200, by clicking "Set Order".
Since for our example we've chosen to buy at Market Rate, the order will be immediate (if the Stock Market is open) and the stock will now be under your possession.
Congratulations! You're a proud owner of (almost) one Facebook stock!
You can see the open market position for your Facebook stock by choosing "Portfolio" under the Menu on the left.
*Open Market Position = Long Position = You own the Asset
---
Selling Stocks on eToro
Let's say, for our next example, you now want to sell the stock that we bought on our previous example, cause you want to liquidate your investment.
In order to sell your stock, you'll have to close the open position you ordered to open when you bought it.
For that to happen, you have to go under Portfolio (Menu on the left), locate your open position on the Facebook stock, click on the gears icon to open the submenu, and choose "Close".
This closes your position (basically means you sell the stock) and you liquidate your profits or losses.
Attention:
Sell Order ≠ Close Order
Many beginners tend to confuse these two orders thinking they are the same.
When you "sell" a stock, you basically close the position you opened when buying it, by selecting Close Order.
The Sell order however is something entirely different. When you Sell, what you do is open a Short Position against the price of the stock. Your goal is to profit from when its value declines.
On eToro Short positions regard CFD vehicles with leverage and have a minimum entry of $500.
Confused?
📚 Homework: More on Short Selling & Long Buying here.
---
Customer Support
Unfortunately, customer support is not eToro's strong suit.
The company offers two ways to get in touch with their support center:
Either through Live Chat with any available representative, or by opening a Ticket on their support webpage.
In my attempts to contact them through chat, I received the following message:
So much for the Online Chat…
Determined to contact them in any way, in order to have some experience of the support they offer, I decided to submit a Ticket.
They replied after 3 days and informed me they're forwarding my request to the appropriate department, which in turn, replied 29 days later.
To sum up, my customer service experience on eToro wasn't the best. I'd recommend going to their Help Center first, in hopes of finding your issue having been pre-answered there.
Also, contact by phone is not available.
Customer Service is exclusively in English.
---
Pros & Cons
If I had to make a summary of the platforms pros & cons, it would look something like this:
Pros
Free Stock Trading for European clients
Innovative Social Copy Trading & Copy Portfolio Features
Private Lloyd's Insurance for capitals up to 1.000.000€
Free Demo Account
Competitive Spreads
Easy-to-Use & Simple Platform
Cons
Withdraw Fee $5 for every Withdrawal (not for Platinum users)
Inactivity Fee $10 /month if you don't Log In for 12 months.
Conversion Fees for deposits & withdrawals in Euro
Unsatisfactory Customer Support
Min Deposit 50$
---
My opinion
Overall, for me it's a go.
Free Stock trading, along with the Copy Trading feature of eToro, is an excellent combination for users who have little (to none) experience on investing but wish to start venturing down this road.
Furthermore, the simplicity of the platform as well as the Virtual Money Portfolio feature (with fake money), make it even more friendly for new users to get into the world of investments.
On the other hand, eToro does have some annoying features, such as currency conversion fees when depositing in Euro, Withdrawal fees of $5 each time you withdraw money and also Inactivity fees (which however are easily avoidable).
Finally, if you have the option of depositing and withdrawing in dollars (either through PayPal or through a digital bank) do it. You'll avoid the currency conversion fees.
---
*67% of CFDs investors lose money.
Make sure you understand the risks investing carries and the potential for monetary loss.
---
*Attention:
Just because the platform is fairly easy and friendly to use and everything might seem simple, doesn't mean you mustn't approach it with the discipline and responsibility it demands.
Investing IS NOT gambling.
Investing IS NOT guaranteed profit.
Investing = RISK.
Enjoy responsibly…! (sry, had to be done :D)
---
Alternative Trading Platforms
We live in a capitalist society, so the alternatives are always many:
If you're looking for a platform similar to eToro, Trading212 is definitely worth checking out. It offers real Stocks & ETFs without fees but also CFD Trading for Stocks, Indexes, ForEx & Commodities. Even though it doesn't offer eToro's unique Copy Trading Feature, it counters it by offering zero non-trading fees.
📚 Trading212
You can learn more on this platform on the Complete Guide on Trading212 by MoneyMinority
If though, you're looking for an alternative exclusively on CFD trading, I'd recommend checking out the platform of Plus500. It is an Online Platform that offers more than 2.000 CFD options regarding stocks, indexes, ETFs, Options, Commodities, ForEx and Cryptocurrencies.
📚 Plus500
You can learn more on the Plus500 platform on the Complete Guide on Plus500 by MoneyMinority.
Finally, a Budget Online Broker ideal for Long Term passive investors is Degiro. It offers some of the lowest fees on the market for stocks and 1 free ETF trade per month.
📚 DEGIRO Guide
You can learn more about this platform on the Complete Guide on DEGIRO by MoneyMinority.
---
F.A.Q.
Can I invest on eToro with virtual money?
Yes! And it's what I'd recommend if you don't have any former experience on investments. You can switch to a Virtual Portfolio at any time through the main menu and check your potential, risk-free, with virtual money.
What does "Buying Real Stocks" mean?
When you buy Stocks and ETF without leverage (x1) on eToro, you are the owner of the real stock/ETF and not of some CFD product. This means that eToro purchases the stock/ETF on your behalf and registers it under your name.
eToro, Stocks & Dividends – What happens there?
If you have in your possession stocks or ETFs of companies that distribute dividends, you do receive the dividend share that is owed to you under your account.
eToro and Taxes
Income from investments (either dividends or profits) are excisable (can be taxed). However, since there is no one rule here and every individual case is different, no simple answer can be given here. If you are to seriously start investing, your best call would be consulting an accountant who can guide you through the process accordingly. (Easier said than done)
Can I transfer stocks outside eToro?
Unfortunately you can't transfer stocks that you've purchased on the eToro platform, out of it, into another online broker. Moreover, you also can't transfer stocks from other exchanges or markets into eToro.
Can I Lose More Money than What I've Invested?
No! Although most of the times your equity on eToro will remain positive, it is possible sometimes, for reasons such as Overnight Fees or failed trades, that it becomes negative. In any case though, eToro's Negative Balance Protection feature will kick in and cover the negative equity and return your balance back to 0.
Can I do Short Selling on eToro?
Of Course! eToro offers the option of opening Short Trades against the prices of Stocks, ETFs etc, possible through certain CFDs.
In order to Short Sell any vehicle in the platform, you have to select "Trade" and then "Sell"/
Where is my Free Sign Up Bonus?
Truth is you won't find one since there are no sign up bonuses available for eToro. There haven't and won't ever be any available, since it's in direct conflict with E.U. regulations, which rule that such bonuses result in over trading. If you ever come across any sites that offer sign up bonuses for eToro, they're fake.
What is eToro?
eToro is an Online Social Broker where you can trade investment vehicles through its platform. You can trade stocks, cryptocurrencies, ETFs, ForEx even commodities (such as oil, gold, silver etc). It's one of the most popular brokers right now on the internet, mostly due to its innovative feature: the Social Copy Trading. You can learn more about it on this Complete Guide by MoneyMinority ▶
Why choose eToro?
✓ Free Stock Trading in Europe ✓ Innovative Social Copy Trading & Copy Portfolio Features ✓ Private Insurance by Lloyd's for capitals up to 1.000.000€ ✓ Free Demo Account ✓ Competitive Spreads ✓ Easy-to-use & Simple platform
Where can I open an account from?
---
Risk Disclaimer: eToro is a multi-asset platform that offers investment opportunities on stocks, cryptocurrencies as well as CFDs.
CFDs are complex investment vehicles accompanied by increased risk of potential capital loss due to leverage. 67% of CFDs investors lose money on eToro. Make sure you've done your research before investing on CFDs and understand the risks about potential capital loss.
Cryptocurrencies are a very unstable investment vehicle and have extremely volatile values, making them unsuitable for most investors. Cryptocurrencies are unregulated entities currently under no EU regulatory supervision.
eToro USA LLC does not offer CFDs and makes no representation and assumes no liability as to the accuracy or completeness of the content of this publication, which has been prepared by our partner utilizing publicly available non-entity specific information about eToro.
Affiliate Disclaimer: Some of the links the site uses are affiliate links. They don't cost anything to use; they let other sites know you've accessed their services through MoneyMinority, and is a great way to support and keep MoneyMinority going! If you don't wish to use them, feel free not to! Your interest in MoneyMinority is still appreciated!
Read more on the Risks & Affiliate Disclaimers of MoneyMinority.