Bunq is a digital bank originating from the Netherlands that is nowadays widely available in all of Europe.
It offers an ideal solution for citizens of the Netherlands who often travel abroad and people who want to move to the Netherlands but also available to any European citizen.
The Free Plan of the bank offers a debit card (MasterCard or Maestro) the Bunq Travel Card, fairly useful to those who travel in and out of the EU, with low fees and beneficial exchange rates.
However the free plan doesn't cover many of the "bank needs" some people might have, and that's where the Premium Bunq Plans come in handy, which offer advanced banking features and also a bank account (iBan) in the Netherlands.
Sounds interesting?
Keep reading to find out all the information you need, in the most complete Bunq guide:
---
Bunq Guide Index:
---
What is Bunq?
Bunq is a digital bank that offers its services exclusively online, through the Bunq Mobile App and does not have any "brick and mortar" facilities.
It was founded in 2015 in Amsterdam, Netherlands, from Ali Niknam under the moto: "The bank of the Free".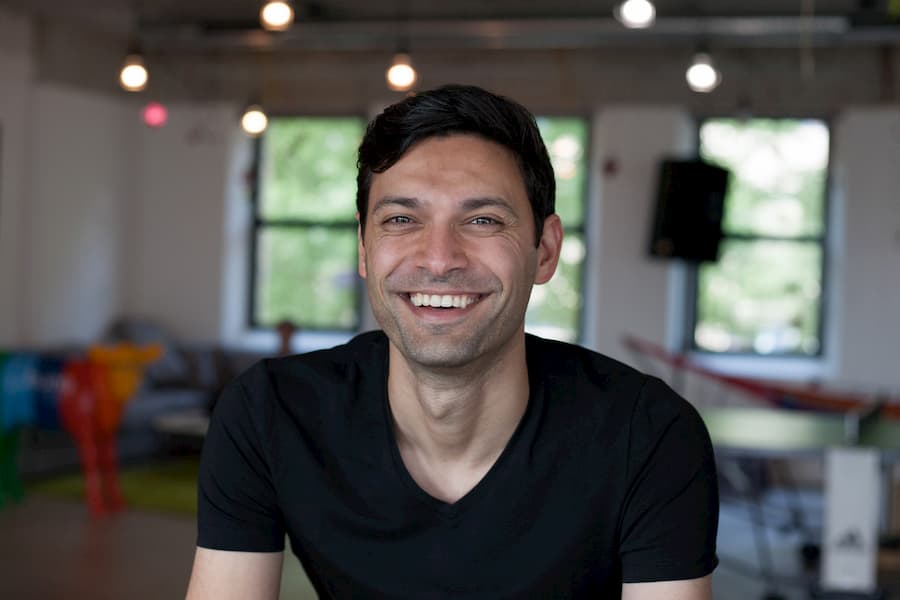 Bunq offers access to all the banking needs one might have through just a mobile phone screen and a debit card (Bunq Card) that goes along with it.
It doesn't just offer a debit card to be used for purchases but is a fully licensed banking institution in the Netherlands offering guarantees, insurance and a whole lot of benefits for its members.
Keep on reading to see what I'm talking about.
---
What does Bunq offer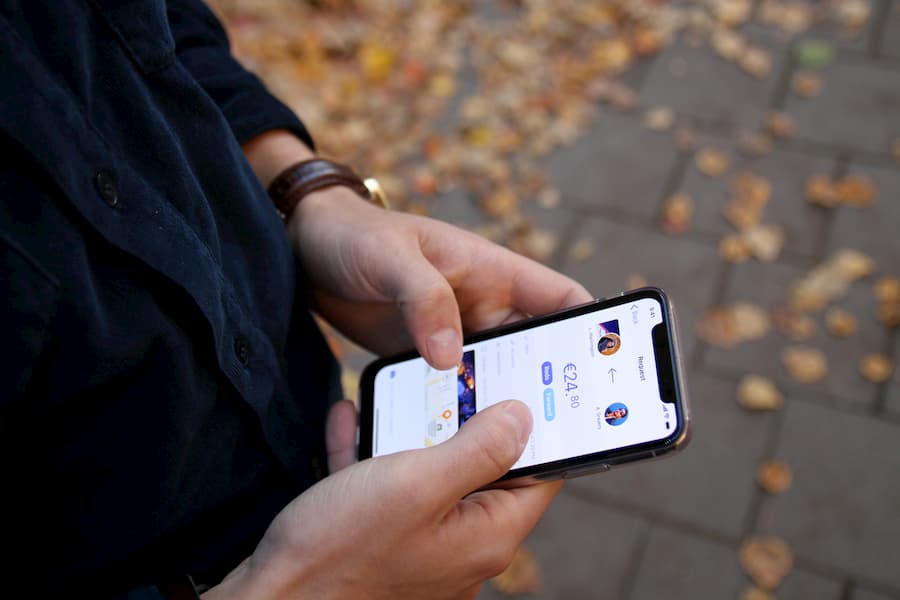 A practical/easy way to think about its services, is dividing them into two categories:
In their Free Plan, Bunq offers a debit card the so called Travel Card.
The travel card is nothing new, it's a debit card – Maestro or MasterCard – that you can use for any transaction anywhere.
And like anyone would fairly ask:
"Why is that any better than the debit card I already have?"
The Travel Card offers currency exchanges using the real exchange rates (specifically official MasterCard interbank exchange rates) and charges no extra fees for the exchange.
"ENGLISH MF*CKER DO YOU SPEAK IT!"
With the Bunq Travel Card you can purchase any goodies or services in the planet, in any currency, in their real price!
And to ace my explanation, an example:
Say you're in the UK and you want to buy a coffee from Starbucks!
*Spoiler Alert: Don't buy that coffee and become a millionaire!
The coffee at Starbucks costs 3£.
If you pay with the Travel Card you will be charged 3,48€, since Bunq will do the exchange for you, using real interbank exchange rates (1,159 GBP/EUR – 05.11.19).
Had you completed the transaction with some other traditional bank, then most likely you would've been charged extra fees for the exchange procedure (for example in my local Greek bank "Piraeus" the rates are 0.2% with a minimum of 1€). Also, most traditional banks use rates that aren't in favor of their members(most exchange rates are capped to the bank's benefit so they can profit off them).
Which raises the price for your sweet Starbucks coffee a little over 5€ in this case.
Quite the difference even if it's just a coffee, right?
Imagine the profits, if we take into consideration all foreign transactions!
Another feature that Bunq offers is ATM withdrawals from any ATM, in any currency again under real exchange rates.
Even though this feature comes at a cost, that of 0.99€ per withrdawal, it might still just be a marginal fee to pay, considering the fees of other traditional cards and those of Currency Exchange Kiosks.
On another subject, the company refers (wrongly – if you ask me) to the Bunq Travel Card as a Credit card.
Don't get confused though, this isn't true! It's a debit card just like the other debit cards out there.
The reason for this being that the Travel Card is as widely accepted as a credit card would.
You can't however, spend any money that you don't already have in your card like you would with an actual credit card.
More on how to transfer money to your Bunq account further below.
Now, if the Free Plan doesn't cover your digital banking demands, it's time to move on to one of the Premium Plans of Bunq.
These plans offer more than just a debit card, they also offer a Dutch bank account connected to the Bunq card.
This means you can now receive payments but also transfer money worldwide in any currency, again using real exchange rates (which Bunq allows for through its partnership with Transferwise).
Let's get a little more thorough with its pricing plans and benefits.
---
How much does Bunq cost
There are 4 different pricing plans available to meet every need one might have.
The options are: Travel Card, Premium, Joint and finally Business accounts.
I promised thoroughness, didn't I?
---
Travel Card – 0€ /month
The Travel Card is the basic and most popular Bunq pricing plan.
A good solution for new members who aren't looking for advanced banking features and just need a debit card for their transactions worldwide.
The Travel Card Plan is free and without any monthly subscription charges.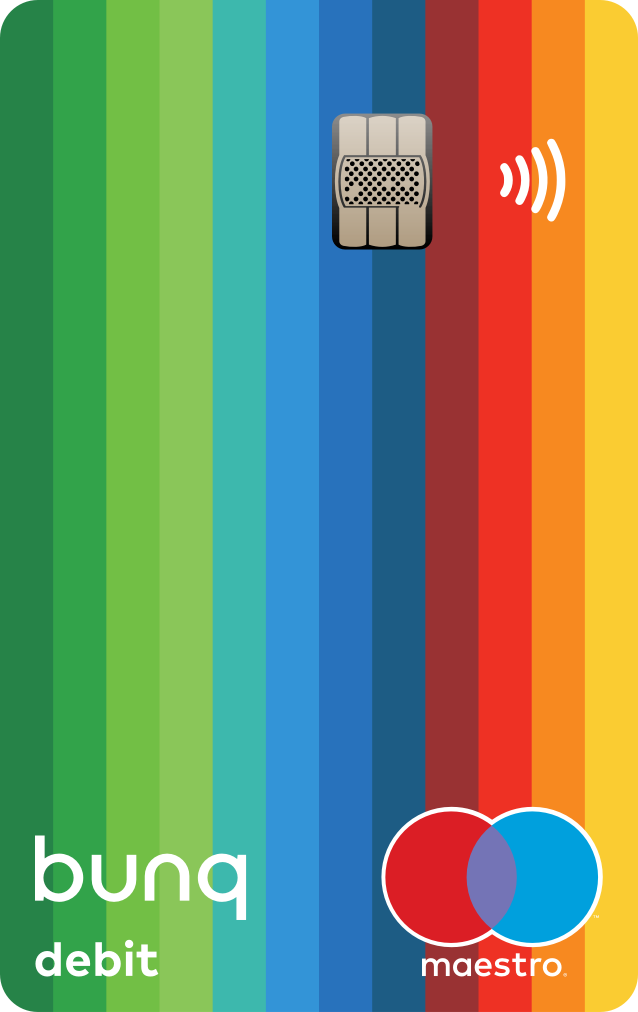 It offers:
A Bunq debit card The user can choose between a MasterCard and a Maestro card (mostly popular with Dutch residents, since it's widely used in the Netherlands). There is a one-time payment of 9.99€ for shipping costs.
Foreign currency purchases (non-Euro) With the travel card you can complete purchases in other currencies with no extra exchange fees and also benefit from real exchange rates that Transferwise uses (meaning real MasterCard rates).
ATM withdrawals worldwide You can withdraw money from any ATM in any currency (Euros or not) for 0.99€ /withdrawal.
Moreover, there are other neat features such as:
Instant push notifications on your mobile phone screen for any transactions you complete with your card.
The option to deactivate/reactivate your card immediately through the App in cases of theft or loss.
Transferring money to your travel card with instant top-ups from other cards is charged with a 0.5% fee if it's a European bank card, and a 2.5% fee for non EU bank cards.
Transferring money through Bank Transfers to your Bunq card isn't charged any extra fees, at least from Bunq.
More on how to transfer money to your Bunq card in a following section below.
---
Premium Plan – 7.99€ /month
If you're looking for something more than just a travel debit card, then you'll have to check out the Bunq premium plans.
The Premium Plan is more than just a debit card, it's a full feature bank account (where in fact you can create up to 25 unique ibans).
In the spirit of thoroughness:
Up to 3 Debit Cards You can issue up to 3 different debit cards (MasterCard or Maestro) for which you won't be charged any shipping costs.
Unique Bank Account with an iBan Enjoy the ability to create up to 25 different accounts under Bunq, each with a unique iBan, and easily transfer money to or from them.
10 Fee Free Worldwide ATM Withdrawals Just like with the Travel Card, you can also withdraw money from any ATM in the world, in any currency, with the rates MasterCard uses. The 10 first withdrawals are fee free whereas after that the fee is 0.99€ /withdraw.
Under the Premium Plan, you can also enjoy the benefit of fee free card Top ups up to 500€ /month.
---
Joint Plan – 9.99€ /month
Do you have Netflix?
If you do, then chances are you're sharing with 3 other friends, one of which is the hero who pays for the subscription…
The rest promise him unique features such as up to 1 free Mojito /month or 2 cappuccinos /month as payment for the subscription.
Until now he's completely sober and 2-coffees-less awake…
If however you're enjoying this situation, you can recreate it in Bunq's Joint Plan!
But instead of watching the Peaky fockin' Blinders, you'll be watching your friend withering away by the crippling debt you've put them under.
The Joint Plan offers all the perks that the Premium Plan offers, and can be "split" in up to 4 different credit cards!
---
Business Plan – 9.99€ /month
The Bunq option for business owners.
Are you one and wish to use Bunq as your official bank and benefit from its features?
Easy!
You can do it with 9.99€ /month.
---
Is Bunq safe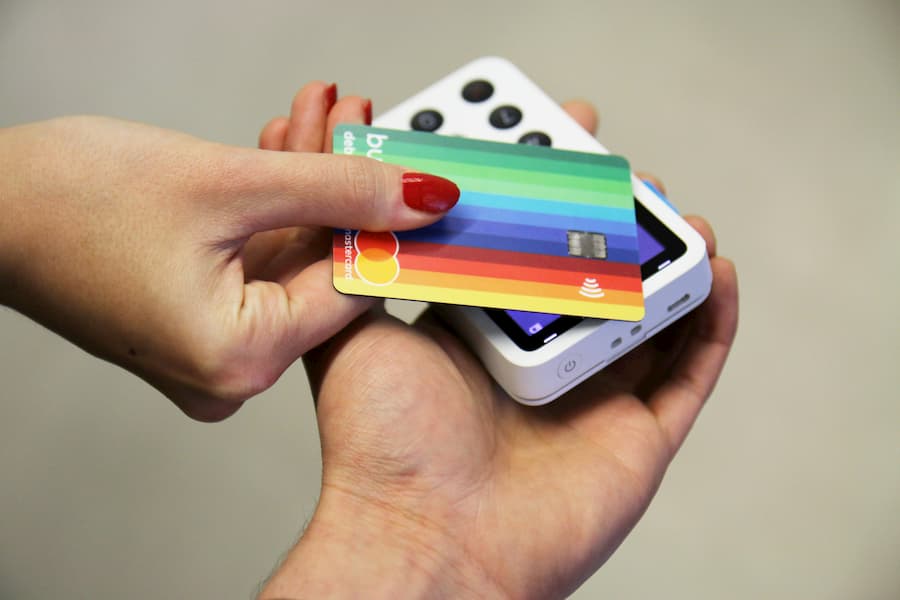 Would you keep your hard-earned money in an unsafe place?
I'm sure you wouldn't!
Thankfully, you share this common sense knowledge with Bunq's team, which has taken the following actions in order to ensure your money is kept safe.
For starters, Bunq operates fully licensed by The Dutch Central Bank (DNB) as a European Banking Institution.
To go along with the licence by the Central Dutch Bank, is something called Deposit Guarantee Scheme (DGS).
Shortly, this Scheme guarantees for deposits up to 100.000€ in case of bankruptcy.
In more immediate security features, Bunq allows the users to instantly Freeze or Unfreeze their cards at any time through their mobile devices.
Finally, a brand new security feature that Bunq offers, one that I've never come across before, is the fact that Bunq's cards come without any CVC digits in the back.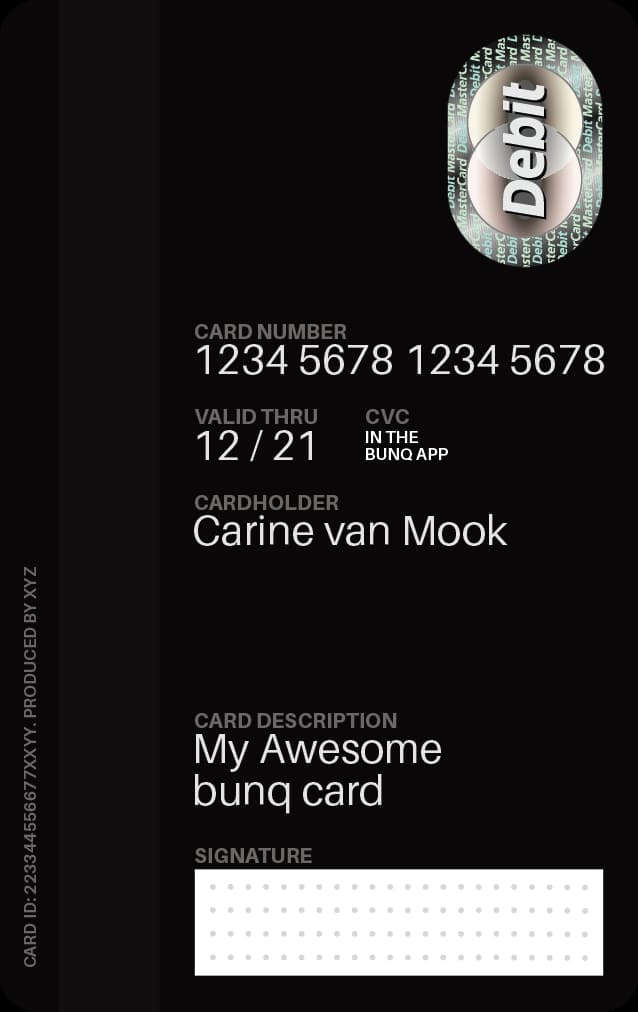 Instead, Bunq's has added the CVC digits security system to the mobile App. You can choose whether or not you want the digits to be static (always the same) or dynamic (changing every few minutes).
One extra obstacle for any aspiring thieves.
---
How do I open a Bunq account
So, does Bunq sound like a good and helpful option for you?
Excellent!
Follow this step by step Sign Up guide and you'll be ready in no time!
*Note: You'll need some form of legal document for creating an account. Keep your passport, ID, driver's licence or permit close.
---
Step 1: Download the App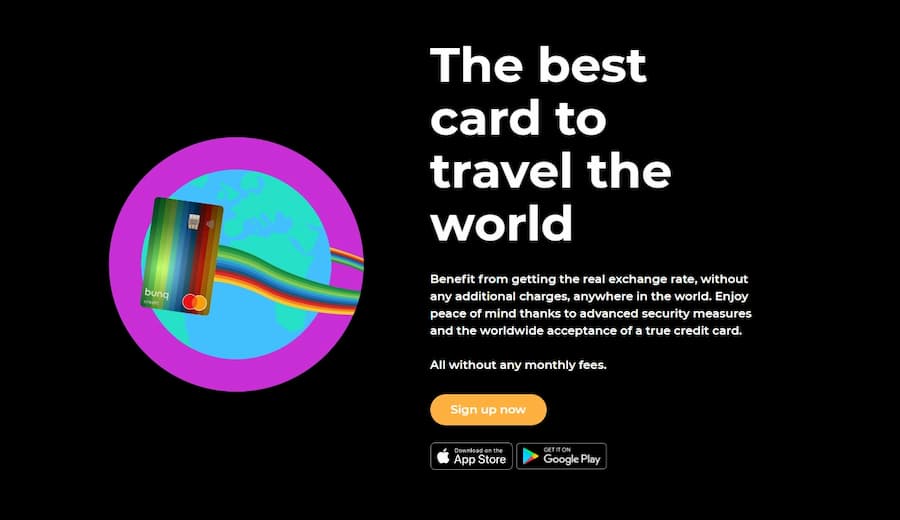 The first step you have to take is downloading the Bunq mobile App to your device.
If you follow the link above from your mobile device, you'll be transferred to Google Play or the App Store where you can download the App to your device.
If on the other hand you're using a computer, you'll get transferred to Bunq's website to complete the sign up.
Step 2: Account Creation
After downloading and installing the app, it's time to create an account.
Open the app and choose "Sign Up Now".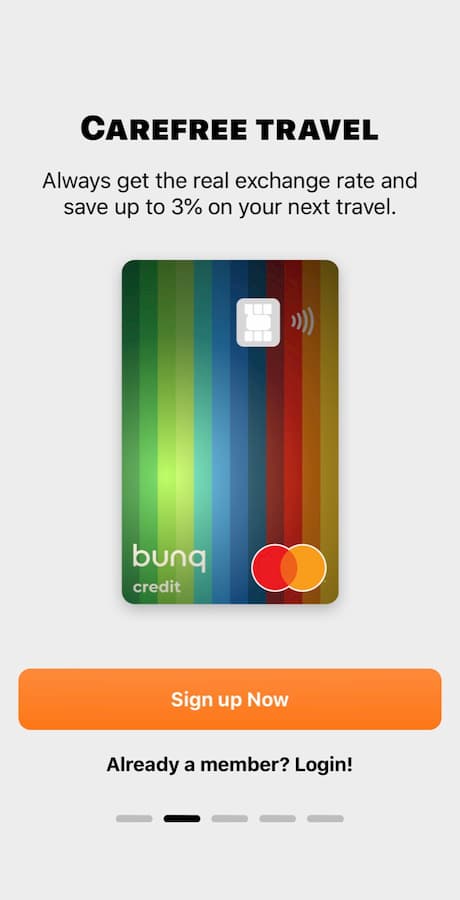 In the next step you get to choose the pricing plan that best suits your needs.
My suggestion would be to start off with the Travel Card which is free and as you get more familiar with Bunq, you can always upgrade to a Premium if your demands get bigger.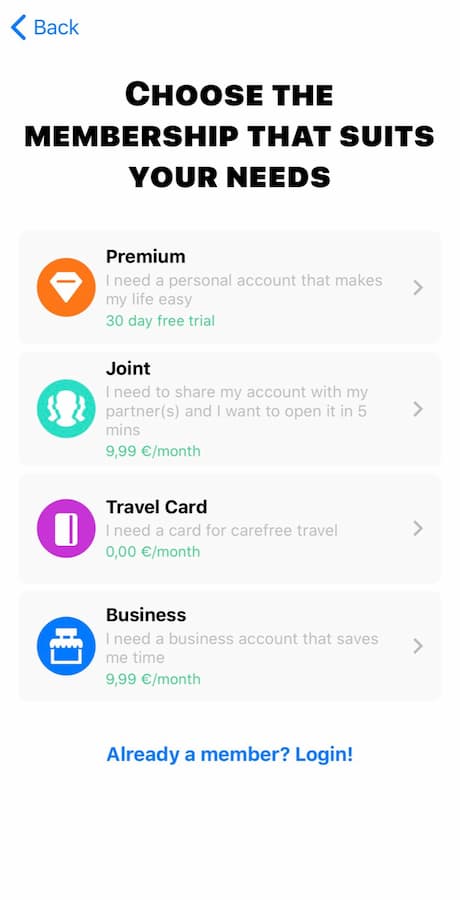 Next, you have to fill in the following personal information:
Your full name
Your Gender
Your Date of Birth
Then you have to verify your Mobile number (you'll immediately receive an sms with a verification code) and your email.
Finally, you have to choose a 6 digit passcode which you'll use to sign in to the app.
*Do not forget it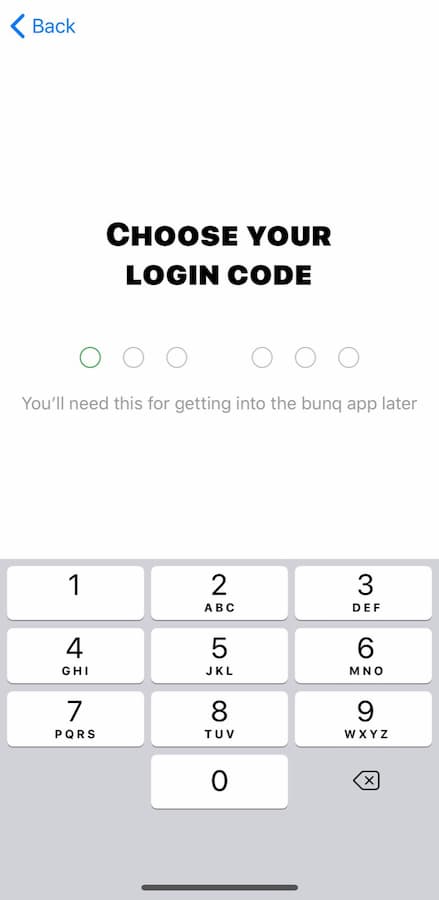 Step 3: Verifying your Account
Hurray! Our account is created!
Now it's time to verify the information we filled in so that it can get activated.
The procedure is pretty similar to the verification process I encountered when opening an account in the Monese Digital Bank.
You'll be needing one of these legal documents:
ID
Passport
Driver's Licence
Residence Permit
I used my passport for the identification process, which I was asked to take a photo of.
To make sure it was actually me, they required some sort of facial identification, so:
I took a selfie
A short video where I had to turn my head on the side.
Spoke out some numbers in English
*Don't be anxious, it was fairly simple and only took 1 miunte
Step 4: Ordering your Bunq Card
The last step in account creation is ordering a Bunq Card (MasterCard or Maestro).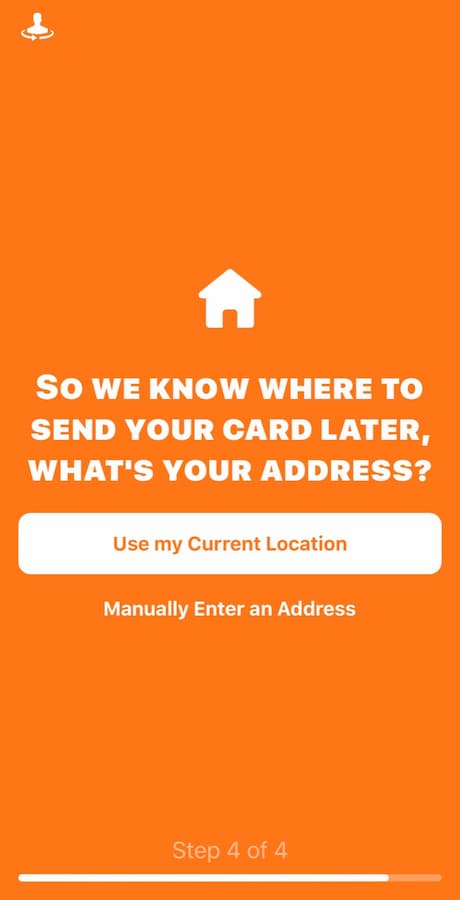 You'll have to add some address information in order for the shipment of your card to take place.
The shipping cost is 9.99€ unless you invite 5 friends to Bunq, in which case it's free.
It usually takes around 10 buisiness days for your card to arrive.
How can I transfer money to my account
After you've finished with everything, account creation, verification and card order, it's time to transfer your first money to your Bunq account.
The good thing is, Bunq offers many different options in order to complete the transfers.
Money Transfer by Instant Card Top-up
Top ups are the faster and easier option of transferring money to your Bunq account.
Through any other card, debit or credit, you can complete "payments" to your Bunq card.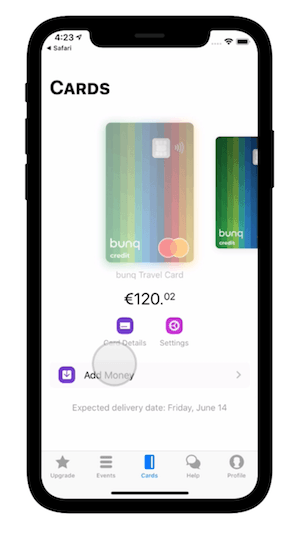 *Attention:
For Travel Card holders, there is a 0,5% commission fee for each transfer.
Only personal cards are valid (not company ones).
You can only use Visa and MasterCard cards from EEA countries.
Sending Money with a Bank Transfer (Remittance)
You can also send money to your Bunq account through a Bank Transfer (remittance) from your traditional bank.
The process is as follows:
Find your personal iBan in Bunq
Sign in the E-Banking services of your traditional bank and select Bank Transfer
Choose the amount you wish to send, fill out the required Bunq account information and select send
And you are done!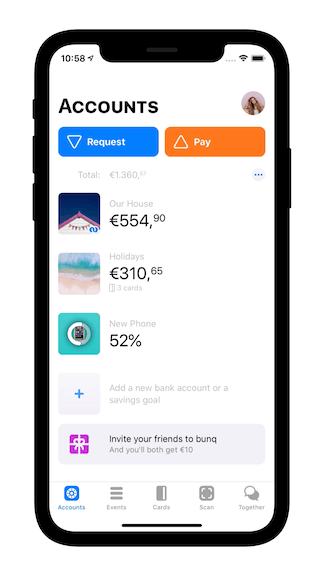 *Attention:
Although there are no fees from Bunq's side, there usually is a commission fee from your traditional bank. For amounts of up to 2.000€ I was charged 1€ (from my local Greek bank "Piraeus").
The money transferred will be visible in your Bunq account in 1 to 2 business days.
Be sure to select SHA as the charging method for the transfer.
Transferring money with Transferwise
Bunq is partnered with Transferwise.
You can connect your Transferwise account to Bunq to send or receive money in over 70 countries always using real interbank exchange rates.
What is Trasferwise? – You ask
You lucky guy!
I've already written a detailed guide on Trasferwise and its services!
Transferring Money with Sofort, iDEAL & Cash
If Sofort or iDEAL services are supported in the of your country of residence, you can transfer money to your account with instant top-ups.
Furthermore, you can deposit cash in partnered ATMs such as GWK Travelex in the Netherlands or Barzahlen in Germany, Austria and Italy.
---
Alternative Digital Banks
Digital banking is a booming industry currently so the alternatives are many.
So many that it's often overwhelming for the average user.
Thankfully, I've already done the work for you and I proudly present a plethora of guides to help you choose:
Revolut
Revolut was founded in London in 2015 and is currently the most popular digital bank option.
N26
N26 was founded in Berlin in 2013 and is one of the larger digital banks in Europe.
Monese
Monese was also founded in London in 2015 and is the perfect option for those who wish to move in or already reside in the UK.
---
Conclusion
Bunq is an official bank of the Netherlands and offers a digital bank option ideal for residents of the Netherlands (it's the only one I've encountered that issues a Maestro card) that often travel abroad but also for residents inside the EU.
It offers a friendly and easy-to-use for the average user application. Also the sign up procedures is only a few minutes long and takes place exclusively online.
The real currency exchange rates and the fee free international money transfers through Transferwise offer a very smooth and cheap banking experience, available worldwide.
One negative aspect surely is that in order to have a full digital banking experience (card and bank account) you'll have to choose one of the Paid Plans such as the Premium one (with a monthly 7.99€ subscription).
Moreover, if you choose the free Travel Card Plan, the shipping costs (9.99€) for the debit card and the ATM withdrawal fee of 0.99€ per withdrawal, are some of the negative aspects that "strike out" so to speak.
---
If you have any questions or just want to share your experience with Bunq, feel free to leave a comment here!
---
F.A.Q.
Here are some frequently asked questions regarding Bunq and its use:
What is Bunq?
Bunq is a digital bank that offers its services exclusively online, through the Bunq Mobile App and does not have any "brick and mortar" facilities. It was founded in 2015 in Amsterdam, Netherlands, from Ali Niknam.
What does Bunq offer?
Bunq offers access to all the banking needs one might have through just a mobile phone screen and a debit card (Bunq Card) that goes along with it.
You can open a Bunq account via the official website for free.
Is Bunq Safe?
Bunq operates fully licensed by The Dutch Central Bank (DNB) as a European Banking Institution. To go along with the licence by the Central Dutch Bank, is something called Deposit Guarantee Scheme (DGS). Shortly, this Scheme guarantees for deposits up to 100.000€ in case of bankruptcy.
Is Bunq available in my country?
Bunq is supported in the following countries:  
Austria, Belgium, Bulgaria, Croatia, Cyprus, Czech Republic, Denmark, Estonia, Finland, France, Germany, Greece, Hungary, Iceland, Ireland, Italy, Latvia, Liechtenstein, Lithuania, Luxembourg, Malta, Netherlands, Norway, Poland, Portugal, Romania, Slovakia, Slovenia, Spain, Sweden & United Kingdom.
Is the Travel Bunq Card a credit card?
Although Bunq seems to market its Travel Card as a credit card, it's not more than a traditional Debit Card! I believe that some of the thinking behind this marketing choice is the fact that the Travel Card is acceptable for any transactions worldwide unlike a Prepaid card. However, if you ask me, I don't find this thinking very rational and wouldn't say I endorse it.
Can I link my Bunq Card to Apple Pay and Google Pay?
Bunq is in full partnership with Apple and Google pay, but the services might not be yet available to some countries.
Patience. 🙂
What Do I Do If I Lose My Card?
Stay Calm And Freeze Card!
Keep in mind that you can always deactivate any Bunq cards through the App, effective immediately.
So even if you lose your card or it gets stolen, no one can use it for malicious purposes.
---